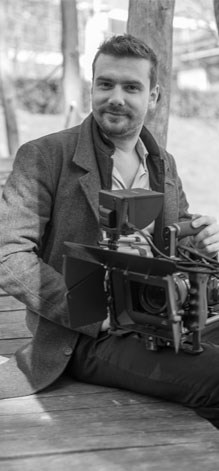 I am Computer Graphic Designer/ Videographer for severals years. I offer my services as a graphics designer and videographer.
I am graduated from "Haute Ecole Albert Jacquard" in Belgium in 2010, and since, I have worked in Belgium and France as Freelancer, in Switzerland in a advertising agency and in a TV channel..
I'm versatile, passionate by video, 3D and 2D graphic design, documentaries , travels and spirituality.
Web/Portfolio:
www.nicolasbailleul.com
Second Website:
Contact:
Adress: Chemin du bré 6, 1023 , Crissier, Switzerland
Mobile Switzerland : (+41) 07 97 60 40 21 | Skype: koasterland | Facebook: Facebook.com/documenterre | Vimeo: Nicolas Bailleul | YouTube ( NEW ): Documenterre| Instagram: bailleul_nicolas | Linkedin: Nicolas Bailleul | Curriculum vitae: here
Ability Camera Gear List:
- Canon 5D Mark III
- Canon 600D
- Panasonic GH4
Experiences:
- Sony Z7
- Sony HVR
- Canon XH A1s
Glass:
- Canon - 18-55mm
- Canon - 50 mm f/F8 II
- Canon - Ef-s 17-85 mm f/4-5.6
- Lumix 12-35mm
Basic video equipment:
- Tripod cullman 662T
- Kamerar Socom Shoulder Tripod (Shoulder Rig for DSLR cameras Individually Adjustable)
- Dslr Steadycam Tsmart Schwebestativ
- Viltrox DC-70 7'' Moniteur LCD extern
- Neewer® 20"/50cm NW-500 Rail Slider Video Stabilizer
- Movofilms MB-600 Camera Sunshade Matte Box with Flags (MF-MB-600)
- Neewer Aluminum Alloy Camera Video Cage
- Dji Osmo
-- Sound:
- Rode Videomic Pro
- Micro-Zoom H4n and redhead protection
Technical skills: Video editing, shooting, post production, compositing :
- Very Good skills in video editing, filming
- Good knowledge of rules of image composition and plans, frames / shots, realization
- Post production in After Effects and Davinci Resolve 9. Video editing in Sony Vegas Pro and Premiere Pro.
- Knowledge of camera equipment and video DSLR (Panasonic GH4, Canon 5D mark III / Using Magic Lantern) Caméra vidéo Sony HVR...
- Knowledge of workflow with Magic Lantern.
- Knowledge of video compression depending on requirements.
- Capacity in storybording and realization.
Technical skills - 3D:
- Very good knowledge of 3d and 3dsmax tool for modeling (organic and geometric).
- the lighting, the texturing, the rigging, and animation.
- Rendering in Vray / scanline render engine and Blender cycle.
- Knowledge of the technical constraints of low poly modeling for video games and real-time.
- Ability in Eonvue.
Technical skills - Web :
- Html and css3.
- CMS WordPress and Joomla.
- Production of websites ,templates and webdesigns in Photoshop and integrations with dreamweaver and notepad++
- Skills in Web-marketing: knowledges in SEO, emailing/newsletters, Social Network campaigns..
Technical skills - DTP and Print :
- Very good knowledge of Photoshop, Illustrator and Indesign tool.
- Constraints resolution graphics for web and print.
Other - Artistic and social :
- Good knowledge of rules of image composition and plans, frames / shots.
- Realization. Creativity through various media - Good knowledge of layout rules.
- Respect of deadlines, availability, stress.
- Management and experience working in a group.
- Acrylics painting.
Softwares:
- Première Pro
- Sony Vegas
- Adobe After Effect ( and Redgiant / videocopilot plugins: Particular, Element3D... )
- Magic Lantern
- Davinci Resolve 9
- Adobe Photoshop
- Adobe Illustrator
- Adobe In Design
- Adobe Dreamveawer
- Adobe audition
- 3Dsmax
- Blender
- Vue
- 3D rendering engine: Vray, Cycle rendering engine
- Unfold3D
Web: css3 and html
- CMS wordpress
- CMS Joomla
Experience and Education:
See Curriculum vitae: here
Connect-me on Linkedin: here